Reduce costs | Increase value | Enable innovation
Teaching to Choose Wisely: The UCSF Center for Healthcare Value Funds a Project Related to Medical Device Regulation
The UCSF Center for Healthcare Value (CHV) is pleased to announce funding of a new project as part of its Teaching to Choose Wisely Initiative.
The project team, led by Drs. Rita Redberg and Sanket Dhruva, will develop a curriculum that introduces undergraduate health professions students to the regulatory processes and protections for drugs and devices.
"Our project was prompted by the observation that a major driver of low-value care in the United States is the use of drugs and medical devices with minimal evidence of benefit," said Dr. Redberg. "We aim to equip students with the ability to understand the ethical considerations around the increased availability and use of novel medical treatments approved with limited evidence."
The proposal noted that even though health professionals are the primary vehicle of information about drugs and medical devices to patients, little attention is given this topic in health professional curricula. "First, we will survey fourth-year health professional students at UCSF to assess their current understanding of medical product regulation and characterize gaps in curriculum content. Then, we will design a curriculum about medical product regulation with an emphasis on current developments in policy, approvals, post-market surveillance, and research," said Dr. Dhruva.
"This subject is highly relevant to the practice of medicine and has major implications for the health and wellbeing of patients. We are filling an important education gap with this project," said Dr. Redberg.
The project was made possible through a collaboration between the CHV and the Haile T. Debas Academy of Medical Educators' Innovations Funding Program.
"The CHV is enthusiastic about sponsoring this project in partnership with the Academy. The focus on combatting low-value care is certainly a central mission of our Center, and we are looking forward to strengthening the curriculum in this area at UCSF and beyond," said CHV Director Dr. George Sawaya.
Dr. Redberg is a cardiologist with clinical interests in treatment of all types of heart disease. She studies the regulatory process for medical devices and the strength of evidence that supports them, particularly high-risk devices, both before and after they are marketed. She is the Editor-in-Chief of JAMA Internal Medicine and spearheaded the Less is More series highlighting areas of health care with no benefit.
Dr. Dhruva is a cardiologist that uses health services research methods to understand and strengthen the evidence base for the safe and effective use of drugs and medical devices. He serves on the American College of Cardiology's Choosing Wisely Subcommittee. Dr. Dhruva cares for patients at the San Francisco Veterans Affairs Medical Center.
---
The UCSF Center for Healthcare Value Announces 2023 "Blue Ribbon Awards for High-Value Care"
The UCSF Center for Healthcare Value (CHV) has designated 11 projects submitted to the 7th Annual UCSF Health Improvement Symposium as receiving "Blue Ribbon Awards for High-Value Care". The award targets projects geared toward reducing costs, improving value and reducing waste. 
This year's Blue Ribbon Awards were given to the following projects and teams:
The CHV extends hearty congratulations to these project leaders and their teams for their devotion to promoting high-value care at UCSF and beyond. 
Read about past Blue Ribbon Award winners here.
---
Improving Value Together
Visit our CHV Resources page to learn more about starting, implementing, or sustaining value work at UCSF.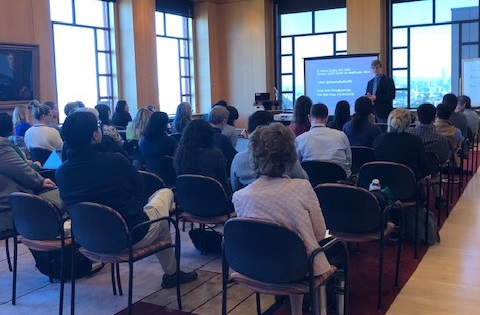 High Value Care Seminar Video Series Sponsored by the UCSF Center for Healthcare Value
View Video Series here